The First Name in Roof Monitoring Technology
An Innovative & Unparalleled Roof Snow Alarm System
Your business is located in an area that receives considerable snowfall. Homeowners and business owners know the importance of preventing snow buildup on roofs. And no one has to tell you how difficult it can be to remove snow from your building's roof. However, snow removal is a necessity because of the effects of the weight of the snow on a structure.
In communities throughout the United States and Canada, countless property owners deal with roof sagging and damage caused by heavy snowfall. Even the best-designed buildings struggle beneath the surprising weight of wet, dense snow. Unfortunately, many of these same owners don't see the warning signs until it's too late—their roofs are already in need of serious repairs.
Safe Roof Systems (SRS) has the solution: an innovative roof snow alarm system. This modern technology offers a reliable monitoring option, so you'll always know when snow removal is needed—instead of performing guesswork or overpaying for excessive snow removal. These real-time capabilities empower you to manage your snow removal more cost-effectively than ever before. When the weather changes on a dime, you need a system that allows you to adapt in realtime.
Your building is a major investment, and you will do whatever is necessary to protect its value. Snow-related roof damage can lead to other issues as well. To prevent structural problems, you will benefit by purchasing structural monitoring equipment. The monitoring system will offer you an accurate assessment of the amount of snow on your roof, allowing you to make knowledgeable decisions about if or when to remove it.

Our roof snow load calculators provide:

The Ability to Reduce Snow Removal Costs by Half
24/7 Automatic Monitoring
Real-Time Email Notifications
Defense Against Roof Failure & Collapse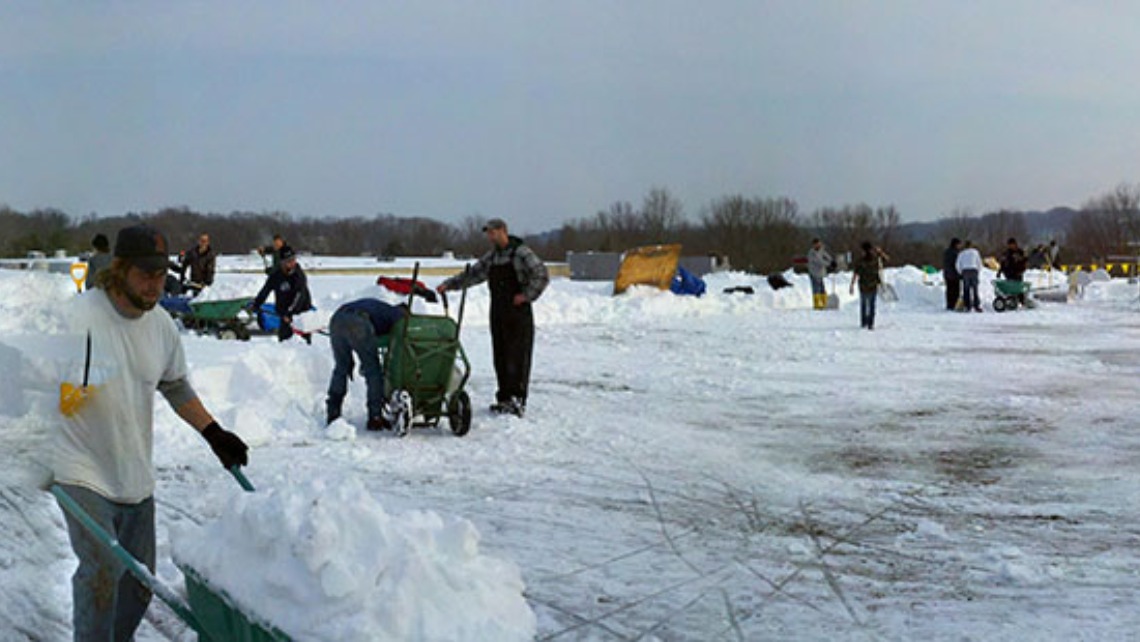 The reason for our success is simple: we use the industry's best and most reliable snow scale. We understand that you depend on our service to protect your most important assets. That's why we're dedicated to pushing the envelope and continuously finding new ways to provide better, quicker, and more precise results.
The benefits of our roof snow alarm system are hard to argue with. Our team offers near-instantaneous results—the best you can get without looking into the future. It's exactly the solution you need for peace of mind on even the snowiest and most unpredictable winter days.
The trustworthiness of our system comes down to the use of predictive monitoring and deflection monitoring—a process in which sensors are aligned with the mid-span of your roof-joist bays. As pressure grows on your roof, these sensors activate upon reaching the customized limit that we calibrate based on the unique needs of your building. You're sure to appreciate this advanced warning, as opposed to guessing the snow's weight and how much more your roof can take. Investing in high-tech snow safety allows you to plan a cost-effective solution.

We achieve these exceptionally accurate results because we monitor more than just the average snow weight. Our snow weight alarm can pinpoint concentrated high-pressure areas that threaten the structural integrity of your building. This advantage cannot be overstated, as ice and snow rarely accumulate in an even layer. Reach out to us today for the best protection at the best price.
Preemptive Warnings about Structural Issues
Our versatile system goes beyond assessing the weight and threat of snow on a roof. It offers comprehensive structural monitoring for building exteriors. Engineers will tell you that many factors affect a building's structural integrity. To determine if any problems exist, crews can use our structural monitoring equipment to enhance engineering studies. Results that include readings from structural monitoring provide you with a clearer idea about the condition of your building.

For over 20 years, American and Canadian property owners have turned to SRS to build and design systems to detect snow-related roof deflection. SRS offers a technically accurate and safe method to measure and monitor roof loads. We're proud to be an industry leader and innovator when it comes to roof monitoring technology.

Sports Arenas
Public Buildings
Schools
Distribution Centers
Data Centers
Warehouses

A Proactive Approach
Waiting for a crisis to take action is a recipe for expensive repair bills. Our system allows you to plan ahead, thereby saving you countless dollars in the long run. And we don't simply settle for accurate real-time readings; we also offer predictive monitoring that lets you look ahead using recorded weight fluctuations. This ensures that there are no sudden surprises—you'll always know when you've reached the critical point at which you need to arrange for snow removal. Our cutting-edge and proactive solutions provide you with:

Peace of Mind
Cost Savings
Proactive Protection
SRS is the right choice for both your building and your bottom line. As technology continues to advance, we pledge to continue offering best-in-market products and services. Our goal is simple: to streamline your life and help you leave snowfall anxiety in the past.
Learn more about our roof monitoring system.
Across North America, snow buildup causes millions of dollars in damage annually. Therefore, property owners must have a dependable roof snow alarm system. Contact us today to discuss your snow monitoring options. We look forward to supporting you soon.
Monday - Friday, 8:00 a.m. - 4:00 p.m.
24/7 Email Contact