The First Name in Roof Monitoring Technology
Know when and where to shovel
Save time & money on snow removal
An Innovative & Unparalleled Roof Snow Alarm System
One winter in an area that receives considerable snowfall is all you need to know how important it is to prevent snow buildup on your roof as well as just how difficult it can be to remove it once it is up there. However, that snow removal is a necessity if you want to avoid damage to your roofing system, building, or the people inside.
In communities throughout North America, countless homeowners and property owners deal with sagging and damaged roofs caused by heavy snowfall. Even the best-designed buildings struggle beneath the surprising weight of dense, wet snow. Unfortunately, these same owners don't always see the warning signs until it is too late.
With the innovative roof snow alarm system from SRS, you finally have a way to monitor the weight of the snow on your roof, so you always know when it is time to have it removed. The real-time capabilities of our structural monitoring system empower you to manage your snow removal in a very cost-effective manner, so you aren't wasting money or risking damage.
Your building is a significant investment, and you need to do what it takes to protect its value. With our snow load calculator, you not only work to prevent structural problems but can also:
Reduce Snow Removal Costs by Half
Enjoy 24/7 Automatic & Predictive Monitoring
Receive Real-Time Email Notifications
Defend Against Roof Failure & Collapse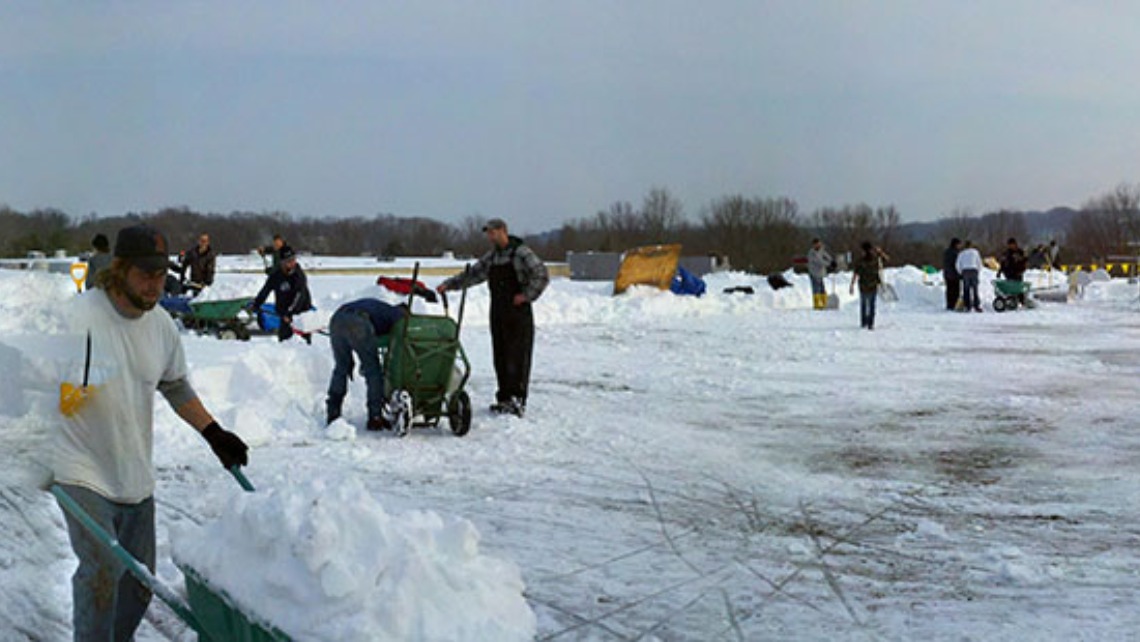 The trustworthiness of our system comes down to the use of predictive monitoring and deflection monitoring—a process in which sensors are aligned with the mid-span of your roof-joist bays. As pressure grows on your roof, these sensors activate upon reaching the customized limit that we calibrate based on the unique needs of your building. You're sure to appreciate this advanced warning, as opposed to guessing the snow's weight and how much more your roof can take. Investing in high-tech snow safety allows you to plan a cost-effective solution.

We achieve these exceptionally accurate results because we monitor more than just the average snow weight. Our snow weight alarm can pinpoint concentrated high-pressure areas that threaten the structural integrity of your building. This advantage cannot be overstated, as ice and snow rarely accumulate in an even layer. Reach out to us today for the best protection at the best price.
Preemptive Warnings about Structural Issues
Our versatile system goes beyond assessing the weight and threat of snow on a roof. It offers comprehensive structural monitoring for building exteriors. Engineers will tell you that many factors affect a building's structural integrity. To determine if any problems exist, crews can use our structural monitoring equipment to enhance engineering studies. Results that include readings from structural monitoring provide you with a clearer idea about the condition of your building.

For over 20 years, American and Canadian property owners have turned to SRS to build and design systems to detect snow-related roof deflection. SRS offers a technically accurate and safe method to measure and monitor roof loads. We're proud to be an industry leader and innovator when it comes to roof monitoring technology.

Sports Arenas
Public Buildings
Schools
Distribution Centers
Data Centers
Warehouses

Learn more about our roof monitoring system.
Across North America, snow buildup causes millions of dollars in damage annually. Therefore, property owners must have a dependable roof snow alarm system. Contact us today to discuss your snow monitoring options. We look forward to supporting you soon.
Monday - Friday, 8:00 a.m. - 4:00 p.m.
24/7 Email Contact