The First Name in Roof Monitoring Technology
Innovative Roof Snow Alarm System
Heavy snowfall is a leading cause of roof damage and sagging in communities throughout the US and Canada. Even well-designed buildings can struggle under the weight of dense, wet snow, and many property owners and managers don't notice the signs until it's too late. By the time you see the hallmarks of strain, your roof might already need repairs.
At Safe Roof Systems, we provide a better solution than guessing or overpaying for frequent snow removal. Our team leverages modern technology to deliver a dependable monitoring option. With a roof snow alarm system, you can effectively manage your removal plans and adapt them in real-time. When the level of danger to your property can change as quickly as the weather, you need a partner who can keep you up to date at all times.
We deliver that assurance with roof load calculators that provide:
The Ability to Cut Snow Removal Costs in Half or More
24/7 Automatic Monitoring
Real-Time Email Notifications
Defense against Roof Failure or Collapse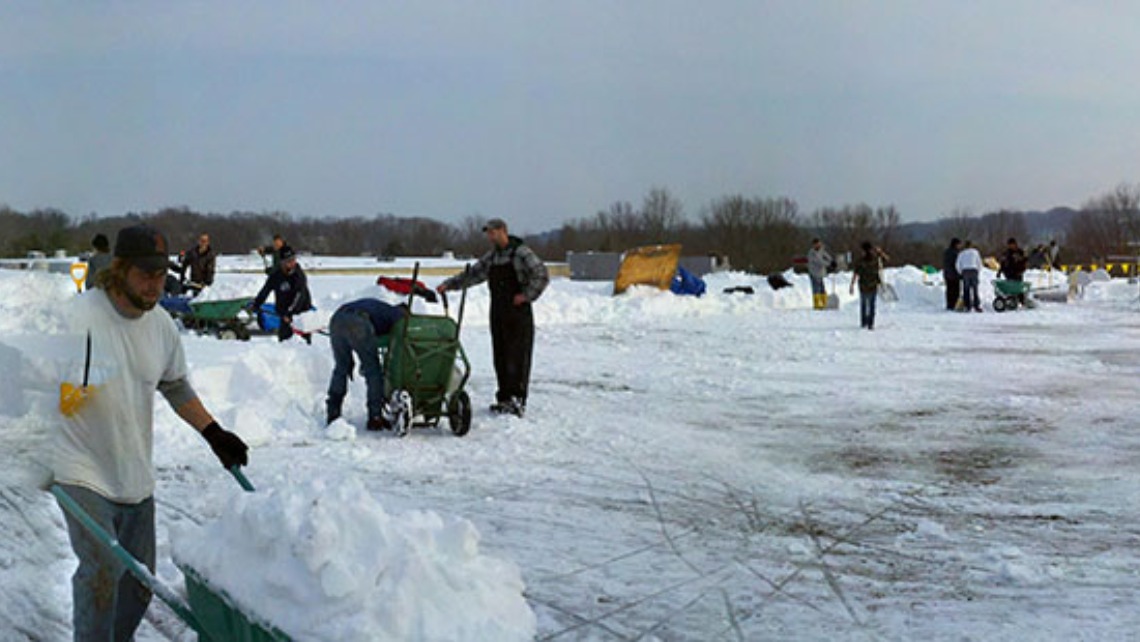 The key to our success is simple: we use the best snow scale option in the business. Our team understands that customers depend on our resources to protect what matters most to them. That's why we push the envelope and continuously strive for greater accuracy, better results, and quicker response times.
The results are hard to argue with. Our near-instantaneous alerts are just about as good as it gets without being able to see into the future. For the ever-unpredictable world of snow deposits, that's exactly the solution you need to stay confident through every weather event and winter days.
You can trust our system because it relies on deflection monitoring. Our team installs individual sensors that we align with the mid-span of roof-joist bays. These sensors activate as the pressure on your roof grows, based on a personalized limit that we accurately calibrate for your needs. Instead of wondering how much snow weighs and how much your roof can take, you always have advanced warning and the time to plan a cost-effective solution. Invest in high-tech snow safety today by reaching out to us.
We achieve exceptional results because we pay attention to more than just the average weight of snow. Our technology can pinpoint concentrated areas of pressure that threaten to overwhelm your structure. Since ice rarely accumulates evenly, that's an advantage that can't be overstated.
At SRS, the bottom line is simple: provide the best protection at the best price in the business. We believe in creating value by supplying real solutions for snow-prone structures. With us on your side, you can focus on making the most of your property -- not worrying whether your roof can stand up to the weather.
For over 20 years, American and Canadian property owners have turned to SRS to build and design systems to detect snow-related roof deflection. SRS offers a technically accurate and safe method to measure and monitor roof loads. We're proud to be an industry leader and innovator when it comes to roof monitoring technology.

Sports Arenas
Public Buildings
Schools
Distribution Centers
Data Centers
Warehouses

A Proactive Approach
You don't want to wait until a crisis arises to take action. Being able to plan can save you countless dollars in damage by making sure you always have a solution before the problem gets out of hand. That's where our roof snow alarm system excels.
We don't just settle for accurate readings in the moment. Our predictive monitoring technologies let you look ahead, using recorded weight fluctuations to make sure you aren't surprised by buildup that suddenly hits a critical point. That means more safety for your property and easier scheduling when you need to arrange for removal. When you choose our systems, you get cutting-edge solutions that provide:
Peace of Mind
Savings
Proactive Protection
That makes us the right choice -- for your building and your bottom line. Incorporating predictive elements allows us to give you the information on snow weight you need before it's too late to avoid a hassle. Our goal is simple: streamline your life and maintain our best-in-market offerings as technology advances. To find out more about how our predictive systems work, you can speak with one of our representatives right now. Get in touch with us and leave anxiety about snowfall behind.
Learn more about our roof monitoring system.
Across the country, structural damage from roof snow buildup causes millions of dollars of damage every year. Therefore, it is imperative for property owners and managers to have a dependable roof snow alarm system. Contact us today to go through your options for preventing snow-related structural damage from occurring on your property.
Monday - Friday, 8:00 a.m. - 4:00 p.m.
24/7 Email Contact